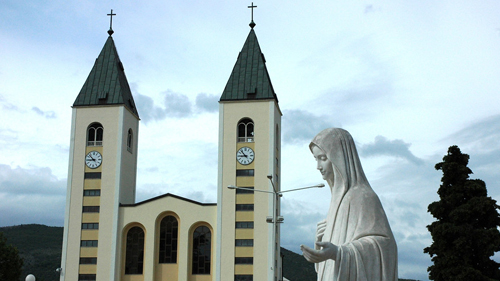 "Madonna zawsze zaznacza, że istnieje tylko jeden Bóg, a ludzie wymusili nienaturalną separację. Nikt nie może być prawdziwie wierzącym, być prawdziwym Chrześcijaninem, jeśli nie szanuje także innych religii."1 – mająca "objawienia" Ivanka Ivankovic

"Madonna powiedziała, że religie są rozdzielone na ziemi, ale ludzie wszystkich religii są przyjmowani przez jej Syna."2 – mająca "objawienia" Ivanka Ivankovic

Pytanie: "Czy Matka Święta wzywa wszystkich ludzi do bycia Katolikami?" Odpowiedź: "Nie. Matka Święta mówi, że wszystkie religie są drogie jej i jej Synowi."3 – mająca "objawienia" Vicka Ivankovic
To całkowita apostazja w Przesłaniu z Medjugorie. Jest to zaprzeczenie katolickiego dogmatu; jest to zaprzeczenie dogmatu, że Poza Kościołem Katolickim Nie Ma Żadnego Zbawienia; i jest to całkowitym odrzuceniem jasnej nauki Ewangelii o potrzebie wiary w Jezusa Chrystusa, Syna Bożego, dla osiągnięcia zbawienia. Udowadnia to, że Medjugorje, podobnie jak reszta fałszywych współczesnych objawień, jest oszustwem Diabła. Ci, którzy są świadomi tych faktów i odmawiają odrzucenia Medjugorje jako fałszywego objawienia, porzucają katolicką Wiarę.